Bring struggling readers to grade level
without the overwhelming and neverending planning and prep.
Bring struggling readers to grade level
The Teaching Reading Made Simple Member's Club™ provides you with a roadmap and ready to use lessons that will close your student's reading gaps even if you are teaching virtually.
Right now with going back and forth between in-person and online learning, students' reading gaps are getting larger and larger and it's getting harder and harder to provide intervention.
This past year has brought many unexpected challenges and it doesn't matter if you are teaching in-person or virtual, finding time to meet the needs of struggling readers is getting harder and harder.
Let's be honest though... even in normal times it was difficult to meet the needs of struggling readers. 
Having students who are reading below grade level is very stressful.
It can make you feel like giving up, especially during a pandemic, right?
If you have tried to bring struggling readers to grade level, you know how difficult it is.
There are so many questions that need to be answered.
These are all great questions and can make the difference between a student NOT learning to read or one that FINALLY learns and whose life path is totally changed.
Bringing a struggling reader to grade-level becomes so much easier when you understand the Educator & Student Success Correlation™
It's time to go from confusion and overwhelm to clarity and success with the
The Teaching Reading Made Simple Member's Club™ provides educators with a roadmap and ready to use targeted lessons guaranteed to close your student's reading gaps.
K-1 teachers that want to ensure their students have the foundational skills solidly in place
1st - 5th grade teachers with students reading below grade level
3rd - 5th grade teachers looking for material to teach students to read multisyllabic words
Parents who have students at home now and no idea how to help them learn to read
I began implementing the Mastery Guides in my 4th grade urban classroom where the majority of my students were reading below grade level. I started using the Mastery Guides with 5 of my students who were reading on a 2nd-grade level; four short months later and the guides have them reading 4th grade proficient!  
These guides provide me the tools I need to proactively begin each school year with the relief of knowing every single student will leave my classroom reading on grade level, which has always been my goal. I know I can make that happen and it is truly exciting!
My struggles and frustration to help find answers for the majority of my below-grade level students is finally over!
Consider this your secret weapon
that gives you back your time, insures your are doing exactly what your students need, and gives you the exact tools to...
bring your struggling readers to grade level.
Have confidence in what you are teaching. 
Decrease the amount of time you spend preparing and planning lessons.
End the overwhelm and GET RESULTS FASTER!
Get support learning more about specifically what to teach 
YOUR READY-TO-USE LESSONS
Access to a monthly ready to use Phonics Mastery Guide of your choice. You will have the option to choose from 11 guides each month based on your student's needs. Each guide includes 20 ready to use lessons based on specific phonics elements along with decodable text, sound spelling cards, and more!
Targeted lessons that take less than 30 minutes a day that are guaranteed to close the reading gaps of your students.
Access to a mini-training and article each month based on research which will enable you to take and immediately implement in your classroom. Some topics include: what every student needs to become a reader, how spelling supports reading, the science of reading research and so much more!
Confidence knowing your teaching is based on reading research.
Access to assessments aligned to the lessons helping you target reading skills and gaps as well as determine if students are on track for success.
Knowledge of what adjustments need to be made immediately to start seeing results. 
Access to monthly group calls so you can get specific advice to go back and implement in your class the next day!
Confidence knowing you are on the right path with your instruction.
Tap into the knowledge and experience of a community of teachers who are learning alongside you. Know you aren't alone on the journey. You will have access to a private FB group to ask questions and get support as you implement the material.
Connection to other educators who are also working to bring their struggling readers to grade level.
The Mastery Guides paved the way for 76% of my students to achieve 1 years' growth after only several months use!
With 17 years of 1st and 2nd grade teaching experience, while working with a large number of ESL students, it was so difficult to find the time and a quality resource to help my struggling readers, until now!
Moving forward, I plan to use the Mastery Guides for remediation and can't wait to see what results I get after using the guides for a full year.
SIGHT WORD ACTIVITY PACKS
Since 100 sight words make up 50% of text, these ready to use activity packs are a great way for students to practice learning those words. Each word includes 5 days worth of fun activities giving your students the extra practice they need for mastery. 
ADDITIONAL FLUENCY PASSAGES
If you have ever felt you have taught phonics until you are blue in the face and students still struggle reading, then this bonus is for you! Often times students aren't provided with enough practice actually reading text. These additional fluency passages are aligned to the elements taught in each Phonics Mastery Guide giving students the practice needed to become a reader.  
STEP-BY-STEP FORMULA FOR BRINGING STRUGGLING READERS TO GRADE LEVEL
This 4 part training walks you through the Teaching Reading Made Simple Framework™ and what it takes to bring a struggling reader to grade level.
I HAVE MY DATA, NOW WHAT TRAINING
Assessment is key to determining what exactly students need in order to close their reading gaps. However, that is only the first step. Once we have the data we need to know what to do with it. This training walks you through the specific steps of what to do once you have your student's data.
I am so excited for the upcoming school year as the structured Mastery Guides give me a simple and effective outline and plan to follow.  It's all done for me and I am ready to go!  
Before I started using the Mastery Guides, I had 4 students reading roughly 20 wcpm and after just a few months using the guides, I had students reading 61, 80 and 90 wcpm!  The assessments accompanying the Mastery Guides even helped one of my students qualify for Special Education.
I've spent the previous 5 years scrambling to find and assemble random materials to help my struggling readers, but no longer!  
Interested in the research behind the Phonics Mastery Guides?
Feel free to share this with your principal!
The Teaching Reading Member's Club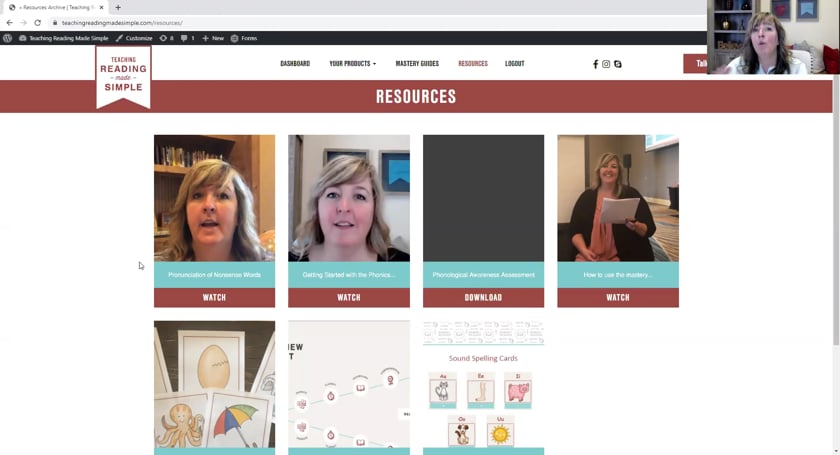 All the answers to your questions:
2ND grade teacher, Indiana
My confidence in teaching reading has skyrocketed. I feel like I finally know where to start with my students and that I can make a real difference!
I teach in an inner city, high poverty school district in Indiana. Before I discovered Lori and her Mastery Guides, I felt like a fish out of water as a teacher, constantly trying new things. It became very confusing with all of the information out there about teaching reading; I didn't know what to choose to teach my students. I was tired of floundering, so I decided to take a leap of faith and jump in to using the Mastery Guides.
Within the first week and a half of using the Mastery Guides, a spark went off with my students. They began to look forward to our lessons and were, for the first time, interested in reading! One of my students went from reading 54 wcpm to 124 wcpm in 4 short months. I also have a student who is a selective mute who not only went from reading 31 wcpm to 65 wcpm, but also improved his accuracy. He is so excited and proud of himself!
The Mastery Guides couldn't be easier. You just assess your students to determine their phonics gaps, grab the guide they need and begin to teach!